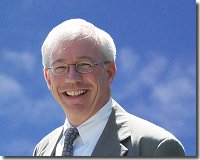 Norman Rogers, Jr. is an experienced business lawyer with an entrepreneurial small firm practice. The firm represents a wide variety of small businesses, institutions, and individuals. The firm's responsive staff uses the latest technology and internet resources to compete in a rapidly changing legal environment. Our small size allows us to be flexible, nimble and affordable.
Commercial and Residential Real Estate
Real estate transactions can be a complicated process. Whether you're a buyer, seller, broker or bank, you can rely on us to make sure the process goes smoothly as possible and to help avoid roadblocks.
Estate Planning and Probate
For help with estate planning and probate matters we highly recommend you contact Czepiga Daly Pope & Perri.
The firm's mission is to provide responsive, sophisticated legal services at a reasonable price.
The firm maintains a wide referral network of other experienced trial lawyers and transactional lawyers nationwide.