Norman E. Rogers, Jr., Attorney
nrogers@rogerslawfirm.com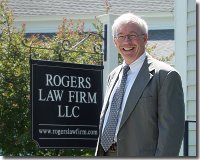 Attorney Rogers received a B.A. degree with honors from Hartwick College in 1972. He served a tour of duty in the U.S. Navy, and then graduated cum laude from Western New England Law School in 1979. He is admitted to the Connecticut Bar and the U.S. District Court. In 1997 he received his LL.M degree in taxation from Boston University School of Law.
Attorney Rogers spent a number of years in the banking and finance industry, serving as associate counsel with Hartford National Bank, and then for 10 years, as counsel and subsequently senior vice president with a subsidiary of Barclays Bank PLC.
Attorney Rogers serves as Probate Judge for the District of New Hartford, a part-time position he has held since 1990. He has served as Executive Secretary of the Connecticut Probate Assembly since 1992 and is a member of the Assembly's Executive Committee and various other committees, including the Connecticut Probate Practice Book Revision Committee.
Attorney Rogers was member of the field staff for U.S. Senator Lowell Weicker for six years. For six years he also chaired the Farmington River Wild and Scenic Committee, which led to the designation of the Farmington River as a National Wild and Scenic River. He is currently a board member of the New Hartford Historical Society, Connecticut Farmland Trust, the Northwest Connecticut YMCA and serves on the Kraeft print acquisition committee at the University of Connecticut's William Benton Museum of Art.
Bethany L. Monda, Legal Assistant
bmonda@rogerslawfirm.com
Bethany Monda is a legal assistant at the firm. She is a highly trained professional with experience in all aspects of business closings and commercial and residential real estate. A graduate of Northwestern Connecticut Community College, she received her legal assistant degree with high honors.
Pamela Garrett, Legal Assistant
pgarrett@rogerslawfirm.com
Pam Garrett came to the firm in 2001 after 30 years' experience in independent education and foundations. She attended Southern Connecticut State University and Central Connecticut State University and is a graduate of Berkeley Secretarial School. She has owned and operated "The Last Word," an administrative support company, since 1982.